Submitted by

evanharrell

on Tue, 12/20/2016 - 12:56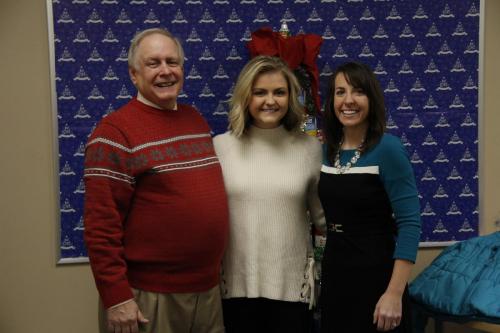 Guy Adams, President/CEO of Christian Appalachian Project (CAP), celebrates CAP's Lexington Open House with Hannah Amburgey, who collected more than 300 coats for CAP, and Kentucky State Treasurer Allison Ball.
LEXINGTON, Ky. — Christian Appalachian Project (CAP) hosted a community food drive to celebrate its Open House, Dec. 16. CAP's Lexington office, located at 2528 Palumbo Drive, continues the more than 50-year mission of CAP to build hope, transform lives, and share Christ's love through service in Appalachia.   
"Organizations are important, but they are nothing without the people," said Guy Adams, President/CEO of CAP, when thanking employees and volunteers. "Every day, you impact lives. Participants come to CAP with many challenges. It is humbling to me to lead CAP, knowing the incredible difference you make every day. You change lives one participant, one family at a time."
The Open House provided an opportunity for the community to come together to share in the work of CAP. Employees throughout CAP's three locations (Lexington, Mt. Vernon, and Paintsville Headquarters) participated in a non-perishable food drive to help stock CAP's Grateful Bread food pantry in Mt. Vernon. Local churches and community groups also supported the cause which collected 1,254 pounds of food, which will provide supplemental food for families in need as temperatures drop and winter sets in.
"We are excited to be able to open our doors to our community as we continue to build partnerships that help transform lives in Central Appalachia," Adams added. "The Christmas season is a great time to work together to serve children, their families, seniors, and individuals with disabilities."
Also taking part in the celebration was Kentucky State Treasurer Allison Ball and Hannah Amburgey, a 17-year-old student from Laurel County who has collected and donated over 300 winter coats to CAP so that other young people in Eastern Kentucky can be warm.
"CAP has always meant a lot to me," said Ball, an Eastern Kentucky native. "I knew Father Beiting, CAP's founder. He was one of my heroes. He taught us to give back and be like Jesus," Ball said. "At CAP, everybody cares about everybody. What you do here matters. Your work makes a difference. I see your impact."
Representatives from CAP's 16 human services programs were also present to provide additional information about opportunities to partner with CAP throughout the year.
Adams summed up the celebration with a quote from Horace Mann, "The highest service we can perform for others is to help them help themselves."