Submitted by

evanharrell

on Wed, 02/28/2018 - 07:07
MOUNT VERNON, Ky. — Christian Appalachian Project's (CAP) Grateful Threadz Thrift Store received two brand-new steamers from The Jiffy Steamer Company, based in Union City, TN. The steamers will be used by Grateful Threadz staff to prepare donated clothing to go on the sales floor at the store.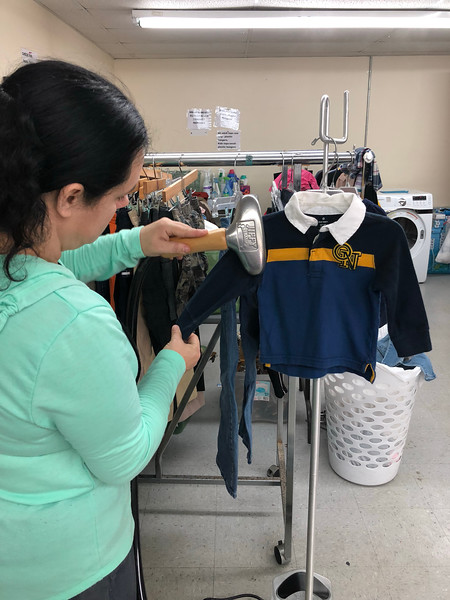 Amanda Gadd, a community volunteer, uses the new Jiffy Steamer to prepare donated clothing to go on the sales floor at Grateful Threadz Thrift Store.
"We are so grateful to Jiffy Steamer," said Sherri Barnett, Grateful Threadz store manager. "This may seem like a small thing, but it goes a long way toward preserving the dignity of our customers."
Laura Rhenberg, a spokesperson for Jiffy Steamer, expressed the company's commitment to supporting organizations working to change the lives of people in need. "We are always happy to assist a great cause when we can. Steaming the clothes will remove wrinkles faster and more efficiently than ironing which will be so much easier for the employees at Grateful Threadz."
The store receives donated clothing from donors across the nation. Barnett wants to make sure that the community has an excellent experience when they visit the Grateful Threadz.
"In our community, there are not a lot of retail options," Barnett said. "Many of our customers – CAP participants and members of the community – have limited financial resources, especially when it comes to clothing. We want to create an atmosphere at Grateful Threadz where people can keep their pride and dignity."
The steamers allow Barnett's staff to steam wrinkles out of donated items so that they look nice on the rack and customers don't have to dig through bins.
"We care about the people," Barnett added. "We are glad to be a resource in the community where families can leave with nice outfits and can feel good about going to school, church, or work. It really makes a difference. We are grateful for Jiffy Steamer and for our donors."
Jiffy Steamer has been in business since 1940. Family values represent the core of the Jiffy brand with four generations actively involved with the company's operation.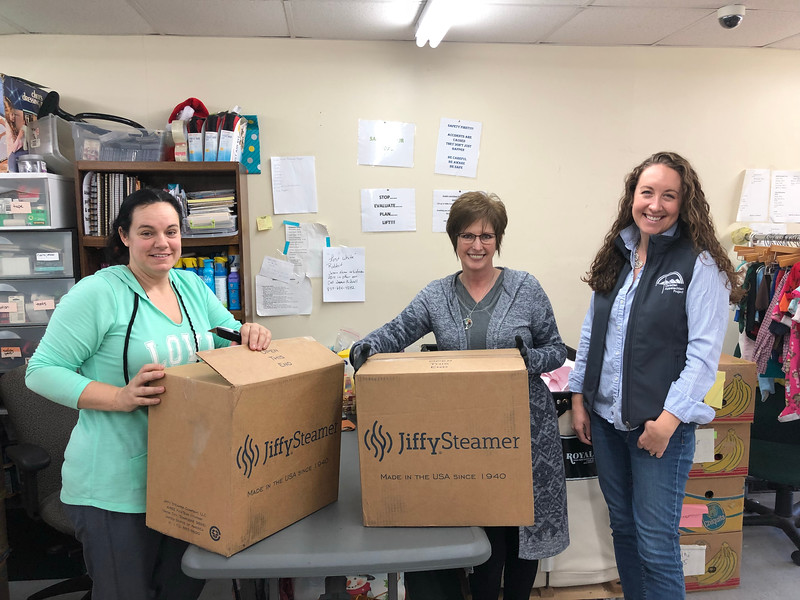 Amanda Gadd, Sherri Barnett, and Bridget McCormack with two brand-new steamers donated by Jiffy Steamer in Union City, TN.