Submitted by
brittany.conley
on
Tue, 10/26/2021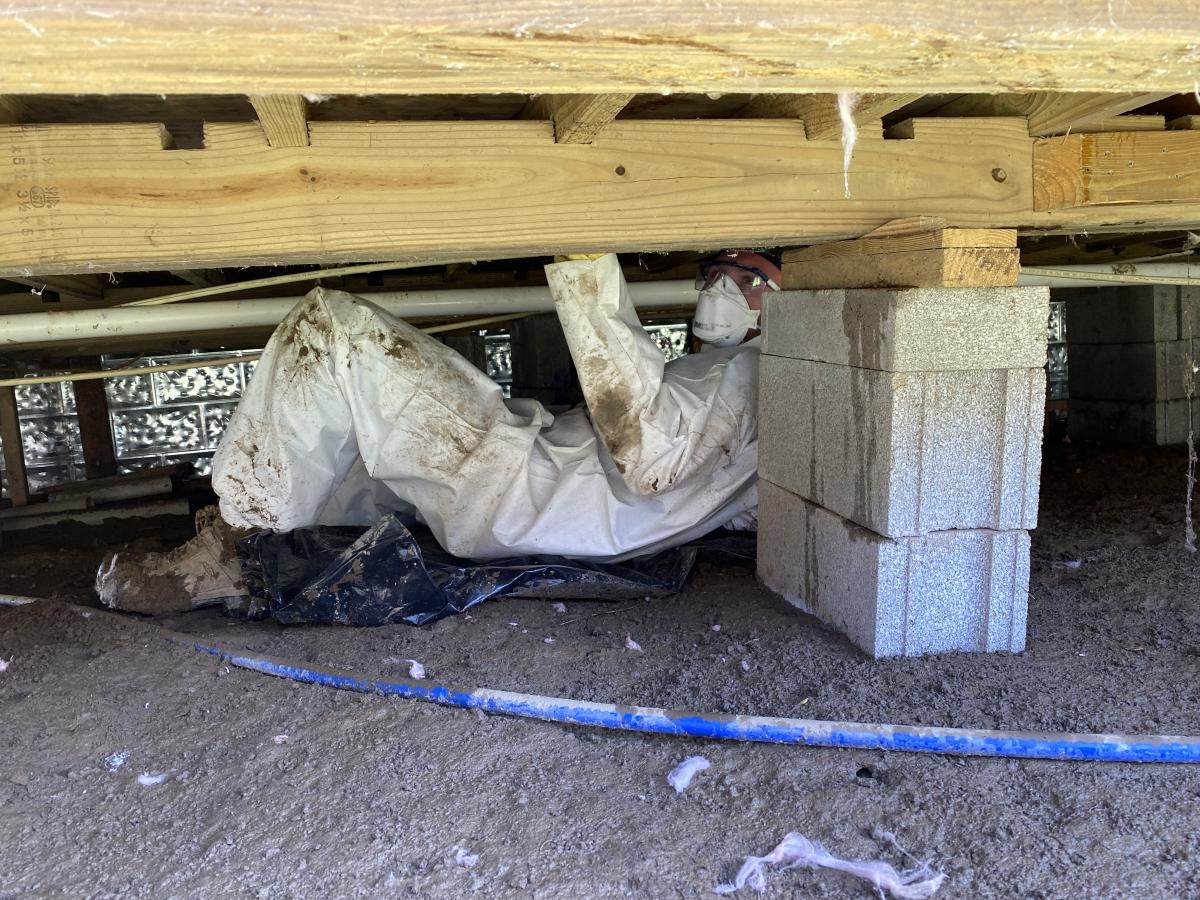 A large black dog brought a chewed-up stick to Will Pinhak's feet and gave him a nudge. In between drilling sections of underpinning to a home, he gave the stick a toss for Smoky and continued helping her family recover from historic flood damage. Pinhak was a recent one-year volunteer and AmeriCorps member with Christian Appalachian Project's (CAP) Housing Program.
Before coming to serve in Appalachia for the first time, the Philadelphia native was studying architecture and civil engineering at Catholic University in Washington, D.C. and was active in community service through the university's Office of Campus Ministry. There he acted as a service leader for four years and attended alternative spring break and summer trips to Jamaica and Philadelphia. He also served with Habitat for Humanity in Oregon and led a trip to Camden, New Jersey.
"My time there fostered in me a love of service. I realized in my third year that I wanted to continue to serve and commit to doing so for a year following my graduation in May 2020," Pinhak said. "I knew that I wanted to serve with an organization that focused on housing and construction, because that is where my career lies, and because I am very passionate about afford-able housing. God led me to CAP."
In the Housing Program, Pinhak helped make homes safe, warm, dry, and accessible for children, their families, seniors, and individuals with disabilities. The experience was an eye-opening one for him, and his service went beyond repairing homes. He was part of a crew that helped a woman living alone get lifesaving medical attention, he brought comfort to a grandfather raising his grandchildren, and he gave relief to families whose homes were devastated by historic floods earlier this year.
"I learned a tremendous amount about home repair and upkeep and had a lot of fun while doing it," Pinhak said. "Being able to experience that all with a group specifically dedicated to serving God and taking spirituality seriously was such an incredible blessing."
A memorable experience for Pinhak is the bond he made with a participant around the holidays. During the winter, he and his crew leader worked to make interior repairs to her home. Every step of the way she stayed close by their side like she was part of the crew.
"She and I had very good rapport, and we even exchanged baked goods around Christmas time and com-pared favorite recipes," Pinhak said. "It felt like I was at a second home when I was working at that site."
From his experience at CAP, Pinhak learned that giving of oneself goes beyond putting in a day's ser-vice but instead putting in your whole heart and soul into every little job or interaction. "CAP does such good and important work, and it was an honor to be a part of it. I learned so much, both about myself and others, and made many great friends," Pinhak said. "It was a truly informative and worth-while experience."
We are accepting applications to be a one year volunteer. YOU can make a difference by applying here: https://www.christianapp.org/volunteer