Submitted by

ckdcaudill

on Wed, 08/17/2016 - 23:36
NEWS RELEASE - June 26, 2016 
MOUNT VERNON, Ky. — Christian Appalachian Project's (CAP) Disaster Relief Program has been asked by our neighboring state to assist in assessments and cleanup after the heartbreaking floods that hit West Virginia. Disaster Relief provides immediate assistance to areas in Appalachia suffering damage from floods, winter storms, tornadoes, and other major catastrophes. Forty-four counties in West Virginia have been impacted by the flooding and 23 deaths have already been confirmed. CAP staff and volunteers will be leaving Mt. Vernon at 1 p.m. and Paintsville at 2 p.m. today to assist where needed in West Virginia.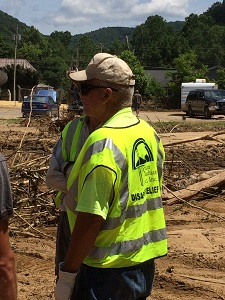 "CAP is uniquely equipped to act in these situations, providing assistance for both the immediate needs and long-term recovery of victims of natural disaster," said Robyn Renner, director of CAP's Disaster Relief Program. "Our program is always ready to provide a rapid response. Volunteers and staff arrive at these scenes of devastation with the training, tools, and procedures necessary to make an instant impact. It is essential to quickly mobilize as many trained and certified responders as possible."
The team is planning and gathering information to respond quickly and effectively to the areas in need once the roads are clear and search and rescue efforts are complete. For more information about how to support our disaster relief efforts and to receive updates, visit our website at www.chrisapp.org or our Facebook page at www.facebook.com/ChrisAppProj.