Submitted by

evanharrell

on Sat, 12/09/2017 - 13:29
MARTIN, Ky. — Parents and children filled the Louis T. Foley Mission Center to capacity at Christian Appalachian Project's Christmas celebration to provide food, clothing, and gifts to children and families this holiday. Nicholas Jamerson, the lead vocalist for country duo, Sundy Best, performed duets with his brother Joseph to the delight of the crowd.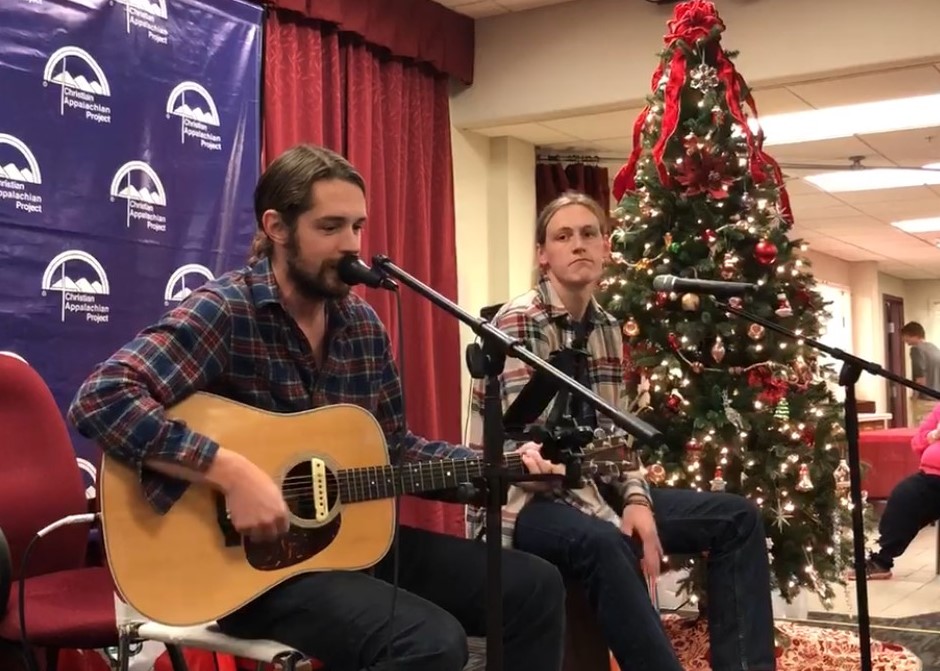 "Our family is so blessed that we were able to receive help from Christian Appalachian Project this Christmas season," said Lynda Gradoville, attending with her family who recently moved to Kentucky from Michigan and Ohio. "Right now we are short on funds and thought that the kids would be without for Christmas."
Gradoville was among the 145 families in Floyd County who attended the event. Nearly 155 families participate in CAP's Christmas sponsorship program where particular wish list items are purchased for family members. In addition, 175 families got to shop for items such as clothes, toys, books, and stocking stuffers through Family Advocacy that have been provided by donors and CAP's Operation Sharing warehouse.
In fact, Operation Sharing was one of the first introductions the Jamerson brothers had with Christian Appalachian Project when they were children. CAP donated items to the Family Resource Center through the Floyd County Public Schools the brothers attended. "Since there were four of us, we had a lot of extra stuff that we outgrew. Our parents donated those items to CAP to help others," Nicholas said.
As Nicholas's country star is rising, he continues to look for opportunities to help those from his hometown of Prestonsburg and the surrounding area. "It's important to help when you can," he said. "I always want to take the opportunity to make a difference because there's a lot of people who need help. It's hard to live here, but it's home. Sometimes the only thing you have to give is yourself."
CAP has provided food and clothing at Christmastime to families in need in Central Appalachia since the 1960s. There were approximately 530 adults and 750 children served by the program this year in Floyd, Martin, and Johnson Counties which also assists seniors and individuals with disabilities who live in poverty. Students from the Carl D. Perkins Job Corps Center served as volunteers to distribute Christmas hams, and other essential items to families.
A mother of two was grateful. "The items we receive from CAP really takes some of the struggle off us," she said. "I really enjoyed the singing because it keeps the Christmas spirit going. It was good to have Nick and his brother here because they are from here. They know what it's like. But it was also good just to see everyone here, kids and adults together."