Submitted by

evanharrell

on Fri, 07/14/2017 - 12:51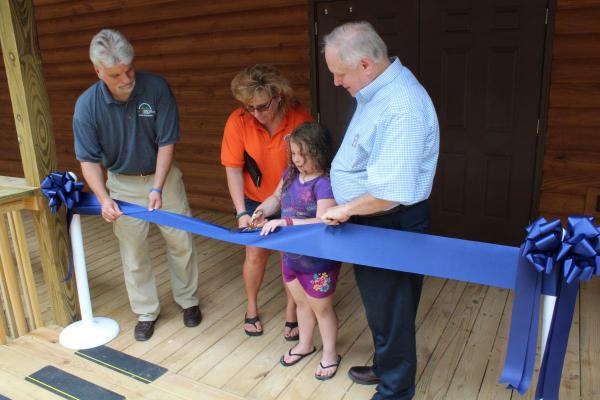 Owen Wright, Pat Griffith, and Guy Adams assist second-year camper Natalee with cutting the ribbon at the dedication of Bradford Hall, the new girls' dormitory at Camp Shawnee.
ENDICOTT, Ky. — Camp Shawnee, one of the oldest camps in Eastern Kentucky, continues to impact the lives of children. The generous donation of Nancy Bradford enabled Christian Appalachian Project (CAP) to build a new girls dormitory at the camp that used to host boy scouts from around the region.
"Even though Nancy did not have children of her own, this new dorm, Bradford Hall, will spread so much love to every girl that will spend time here," said Guy Adams, president and CEO of CAP.
In his dedication remarks, Adams quoted evangelist Dwight L. Moody, who said, "If I could relive my life, I would devote my entire ministry to reaching children for God." The quote reminded Adams of Bradford's commitment to reach children through her faithful giving to CAP.
Natalee, a second-year camper, said, "This dorm means a lot to me. They put a lot of hard work into it. It has a lot of space and it's really fun in there. I've made a lot of friends and I never ever want to leave camp."
"I know that Aunt Nancy would be so pleased that she was able to help children in need in Appalachia and know that the dormitory at Camp Shawnee was being named in her honor," said Bradford's niece. Although Bradford passed away in 2005, her legacy continues.
Camp Shawnee has a rich tradition in the county and has been serving the youth of Appalachia since it opened nearly 65 years ago. In 1985, CAP began leasing the property from the United States Army Corps of Engineers. Since that time CAP, with the help of many corporate partners, like Louisville-based Texas Roadhouse, has continued to expand facilities including renovating and expanding the Craft Room and Nurses Station, enclosing an outdoor pavilion, building a caretaker's bungalow, and replacing all the windows in the living spaces. In addition, with donations from Texas Roadhouse, all the old bedframes and mattresses have been replaced.
"The addition of this dormitory will really be a blessing for our girls and give them a place where they can be treated like a princess," said Pat Griffith, manager of Camp Shawnee. "The dedication of this dorm is not just about the donation or the building, Bradford Hall will be a place that girls will continue to come to form friendships and share laughter with fellow campers and counselors. It will be a place where they create lifelong memories at Camp Shawnee. We are grateful for the generosity of Nancy Bradford's estate to help CAP continue to accomplish our mission in a place that we call home."
For more information about Camp Shawnee, click here.