Hunger Walk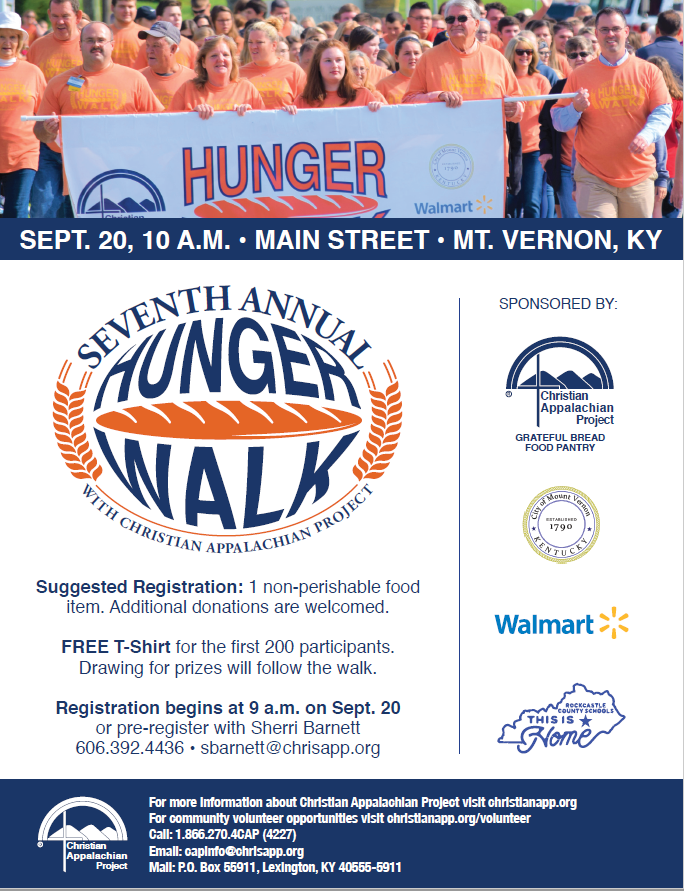 Christian Appalachian Project observes Hunger Awareness Month in September with its annual Hunger Walk. CAP's mission is to build hope, transform lives, and share Christ's love through service in Appalachia. Hunger Walk will take place in Rockcastle County on September 20, 2018.  This event is a wonderful opportunity to come together in support of and solidarity with members of the community who are experiencing food insecurity, and to work together toward a solution to hunger in Rockcastle County.
How does the Hunger Walk help?
CAP distributes about 49,000 pounds of food each month to families and elderly individuals through CAP's Grateful Bread Food Pantry and the USDA Commodity Supplemental Food Program. Last year's Hunger Walk brought in 2,404 pounds of food, thanks to the generosity of the Rockcastle County school system and the 953 amazing walkers who participated. We know we can gather even more support with your help this year. The Hunger Walk is made up of individuals from across and around Rockcastle County – from children and teenagers in our schools to community leaders and elected officials.
How do I sign up?
Registration begins at 9 a.m. on the morning of the walk, on Main Street, downtown Mt. Vernon. You are also welcome to pre-register by visiting this link, or by contacting Sherri Barnett, Manager of the Grateful Bread Food Pantry (sbarnett@chrisapp.org/606.256.3035).

CAP relies on the compassion, generosity, and collaboration of our community partners to make a true and lasting impact within our communities. Together, we eagerly continue in our mission of building hope, transforming lives, and sharing Christ's love through service in Appalachia.