Submitted by

evanharrell

on Mon, 08/28/2017 - 14:41
Donna is a praying woman. In her daily conversations with the Lord, she seeks understanding, guidance, and comfort. She listens and recognizes the remarkable ways by which her prayers are answered. For Donna, CAP feels like an answered prayer.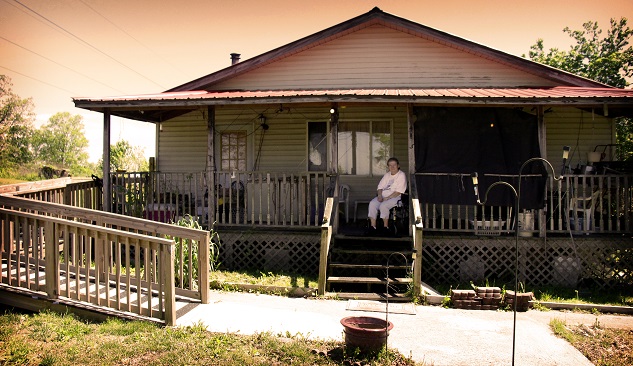 "It's the Lord. The Lord sees my needs and hears my prayers," Donna affirms. "When the first caseworkers from CAP came to visit me shortly after my stroke, I knew the Lord was in it and had a purpose for it."
In 1999, Donna was praying to find a job. She had worked in restaurants, a few factories, and had even spent some time volunteering at the local welfare office in McCreary County. It was in this volunteer role that she learned the skills to operate in an office setting, so when she came across an ad in the local paper for a position with CAP's program for people with disabilities, it appeared to be the right job opportunity at the right time. It felt like an answered prayer.
Donna explains, "When I saw the listing in the paper for the job, it felt like it was written for me. As someone with a knowledge of advocacy and having raised a son with disabilities, it seemed like a perfect fit."
Donna served for more than a decade in what was then called the Caprice Program, which provided advocacy and support to individuals with disabilities. After leaving CAP in 2012, Donna suffered a stroke. Homebound and confined to a wheelchair, Donna was in need of support. Being able to participate in CAP's Elderly Services Program felt like another answered prayer.
As she tells it, "I found myself in a situation where I had very little help and I hated to ask for help from the volunteers at CAP because they had already done so much for me. I just didn't want to tie up their time too much. So I was paying out of pocket for transportation to the doctor, I was paying out of pocket to go to the store – so I eventually did ask for help, but not often."
"After I prayed, these ladies in the CAP Volunteer Program arrived and asked if I'd mind if they built a ramp for my porch. It was just an absolute blessing,"
For some seniors in Eastern Kentucky, CAP's Elderly Services Program is a lifeline. Like Donna, many elderly individuals rely on the program's caseworkers for transportation, advocacy, and socialization. Because of a range of factors, including the migration of young adults to areas with more job opportunities, an inordinate number of seniors in Appalachia lack the presence of adult children to care for them.
Carolyn Lindsey, manager of CAP's Elderly Services Program in the Cumberland Valley Region, explains, "Some people may not realize or understand just how isolated some of our elderly participants are. And it may not be isolation like living out in a geographically remote area, but just isolated from other people in general. And the only contact they have is with our CAP caseworkers."
"I had a participant who rarely got out of the house who kept cancelling her doctor appointments," recounts Samantha Rhodus, a long-term volunteer and Elderly Services caseworker. "I eventually convinced her to let me take her to the doctor and when we got home that day, she described it as 'the best day ever.' She said it was so much fun – just going to the doctor!"
Rhodus is also Donna's current caseworker. Donna, describing the relationship they have formed, says, "I get visits from Sam whenever I call. I'll call and ask, 'Are you going to be free on Thursday?' and she'll look on her calendar to see if she can. Anytime I call, she's never failed me. She's like one of my own young'uns, my own child."
Donna and her husband, Lowell, both suffer from a number of physical ailments and have limited mobility, so a few years ago, the lack of safe access in and out of their home became a serious concern. Donna would have to be lifted on and off of the porch in her wheelchair, roughly three to four feet from the ground. So she prayed.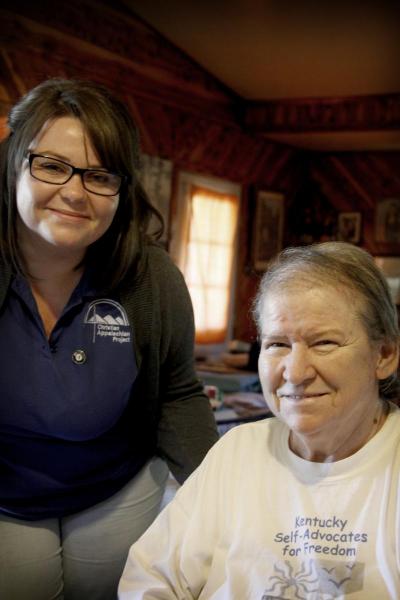 "After I prayed, these ladies in the CAP Volunteer Program arrived and asked if I'd mind if they built a ramp for my porch. It was just an absolute blessing," Donna shares.
With materials and tools supplied by the Elderly Housing Program, the volunteers at CAP's McCreary County campus spent their weekends building the ramp that now stretches around the front of Donna and Lowell's home. Safe accessibility couldn't have come at a more crucial time, since Lowell is now also using a wheelchair. Donna views this providence as nothing less than the work of the Lord.
"This is something I want donors to know – the ways the Lord has used CAP." Donna continues, "I experienced this and could tell you stories for hours about how the Lord used me during my time at CAP. And I still see the Lord at work in the service of the Elderly Program. They truly see me. Sam respects me. CAP respects me and they treat me with dignity."