Submitted by

evanharrell

on Sat, 01/28/2017 - 16:41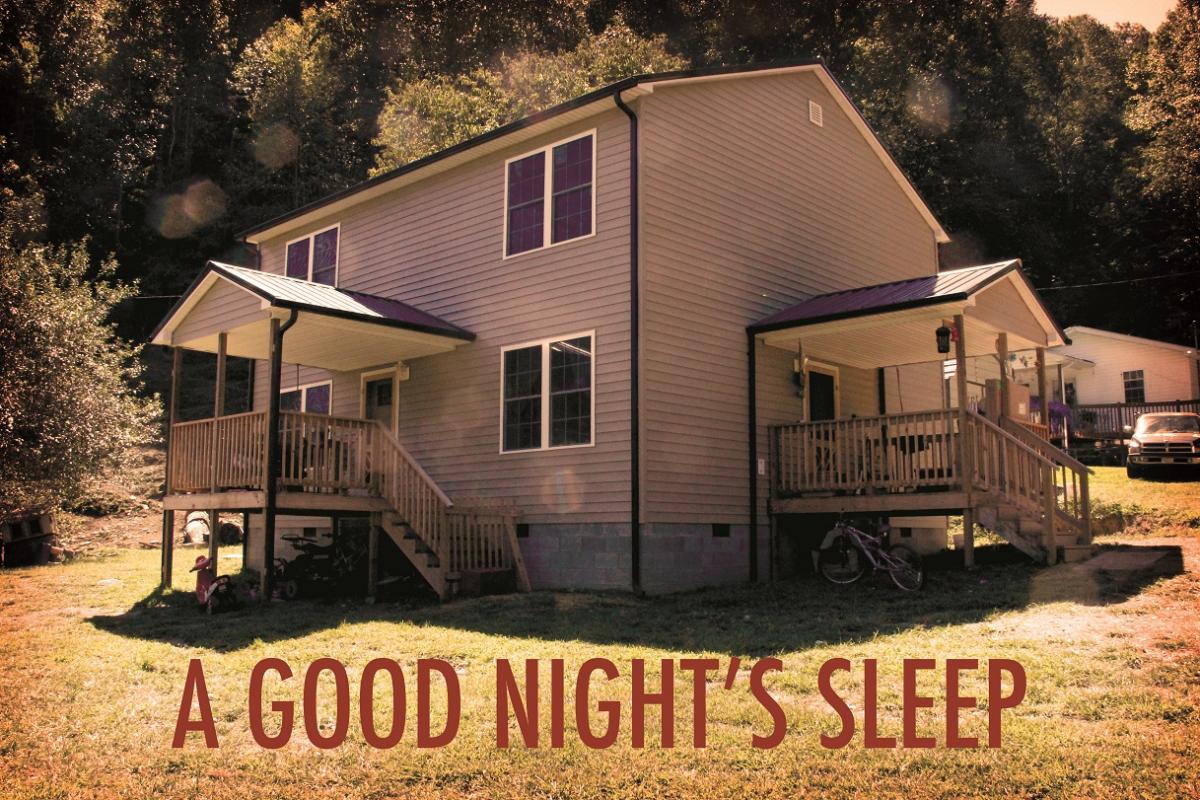 Just days before she was due to give birth to her son, Tina's home was destroyed by fire.
Tina, Robert, and their children were not at home when the fire started, thankfully, but they lost everything they owned.
Prior to the fire, Robert had been severely injured at his job, resulting in multiple surgeries and long-term neck and back pain. The family, who had worked tirelessly to prepare their house for the arrival of the new baby, was left with few options. The soon-to-be family of eight moved into a small two-room house in dire need of repairs, but this was not going to be a long-term solution.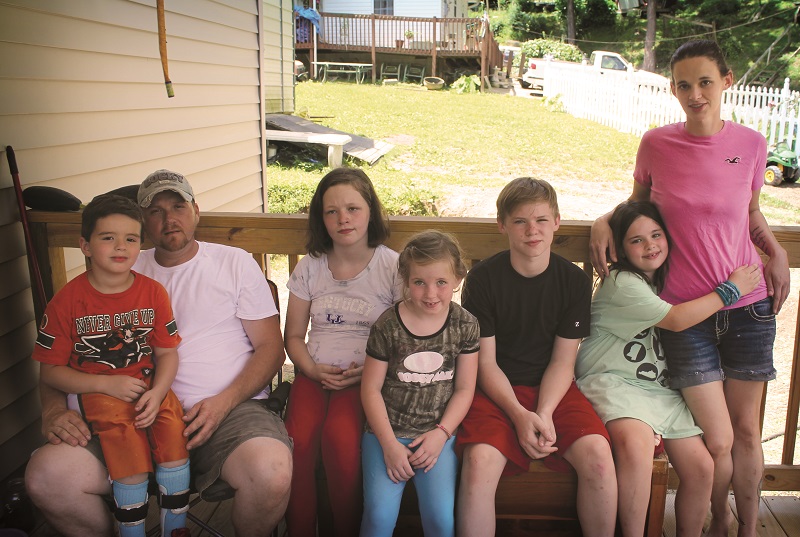 Tina, Robert, and five of their six children.
Tina recalls the situation. "After our house burned down, we moved down here and rented this little house. We needed to be close enough to care for our animals and to be near Robert's mother, who was sick and needed care. All six kids shared a room. They all had their own beds, but they were crowded into the one room. They didn't like it, but when you don't have much income, you've got to go wherever you can."
In the midst of their struggle, Robert Jr. was born. He was diagnosed with cerebral palsy and the two-room house presented little space for his physical therapy.
Tina, familiar with Christian Appalachian Project (CAP) from her time at Camp Shawnee as a child, applied for a room addition through the Housing Program. She was desperate to take care of her family and they were running out of options. Robert, still recovering from his injuries, struggled to keep the children fed by taking on odd jobs whenever and wherever he was able. Tina, Robert, and their six children held out faith that their luck would eventually change.
Around this same period, Jamie Conley was just settling into her new position as a CAP Housing Program caseworker when a unique opportunity presented itself. "There was a group, Civil Engineers of Southwest Ohio (CESO), that contacted the Housing Program requesting that we submit eight stories of families in need of homes," explains Conley.  The owner of CESO was interested in partnering with CAP in order to fund the material costs of a new home build, so Conley began sifting through the applications that were on the waiting list for repairs.
"I found Tina on our waiting list and submitted her story because she had such a high priority score. Her story was eventually selected by the engineers to fund the home build," Conley says.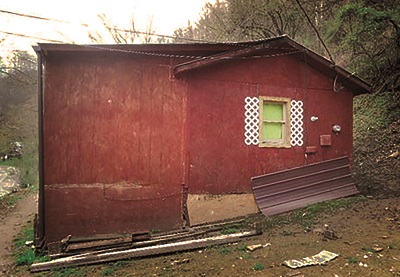 The home where Tina, Robert, and their six children lived after the house fire.
This was the beginning of the process for CAP, CESO, and the family, who would all spend the subsequent few months drafting plans and preparing for the construction. It was determined that the most effective use of resources would be to engage in the most intensive construction efforts during the three weeks of WorkFest, when hundreds of college students would be volunteering their time and labor with the Housing Program.
In March of 2016, throngs of college students from across the country poured into the foothills of Eastern Kentucky and converged on the plot of family land designated for Tina and Robert's new home. Crews of volunteers and trained Housing Program staff darted about the property erecting frames, installing siding, laying flooring, painting drywall, and engaging in a thousand other projects to ensure that the house would be ready for the family. At any given point during this three-week construction blitz, Robert could be found engaging in as much labor on the worksite as he was physically able and Tina could be found in deep conversation with the students.
Tina reminisces on the experience, "I really loved WorkFest. I'm actually still in contact with a few of the students and long-term volunteers from those three weeks. I talk to a lot of them on a daily basis."
As grateful as Tina is for the service of the volunteers to help build a home for her and her family, it is immediately evident that she is equally appreciative of the relationships that developed and the community of care that was formed last March. As she scrolls through her phone contacts, she pauses at each volunteer name and reflects on their personalities, the jokes they shared, their hometowns (which are all a great distance from Kentucky), and the bonds that were created through the experience.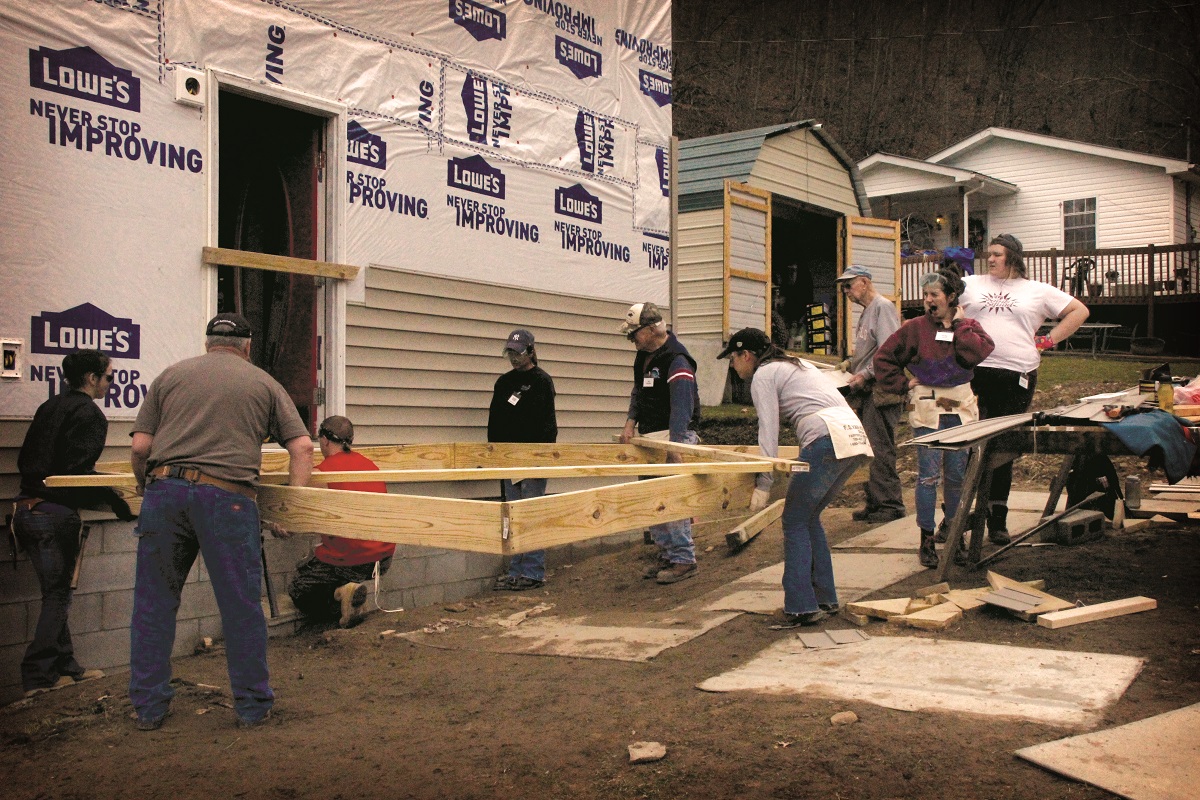 A WorkFest crew lifts the frame for the family's new porch.
"I really connected with one of the girls and it's funny, because she reminds me so much of a younger version of myself. She wasn't your typical idea of someone who you think would volunteer. We both cried when she left and still talk almost every day," Tina says with a smile.
After years of struggle, hard work, and steadfast faith, the family was able to move into their new house this past summer. Tina acknowledges, "I feel like God sent us this house, because this is the one thing we really needed."
Today, the house looks lived-in, comfortable, and echoes the personalities of Tina, Robert, and the children. Photos of the family cover almost every inch of the walls in the living room, which is otherwise decorated in a camouflage motif. Tina and Robert's love of the outdoors and animals permeates every room and corridor. As she climbs the stairs to the second floor, Tina turns and nonchalantly points to the terrarium that houses the family's pet snake.
Unmistakably, Tina's favorite rooms in the house belong to her six children. She beams with pride and satisfaction as she points to each of their beds, all affixed with a custom, handcrafted name plate. Each room is painted and adorned in a theme appropriate for each child. For children who have spent much of their lives crowded into a single bedroom with their siblings, this space is a luxury they've never known.
"Since seventeen I've had to work to take care of myself and my kids – it felt like it was us against the world. And now we have a house – and I love it," Tina declares. "The thing for me is that my kids don't have to move any more. That's the biggest thing. We've had to move from place to place to place and now we have a permanent home. And we don't owe anyone anything. It's weird – I used to have trouble sleeping at night. But now? Now, we all just go right to bed."