Submitted by

evanharrell

on Thu, 04/06/2017 - 07:55
PRESTONSBURG, Ky. — Students from Michigan State University (MSU) recently returned from a spring break trip where they spent a week working to make homes safe, warm, and dry for families in need in Floyd County, Ky. The Spartans joined many other college students from around the country who chose to partner with families and Christian Appalachian Project to repair homes as an alternative to traditional spring break options.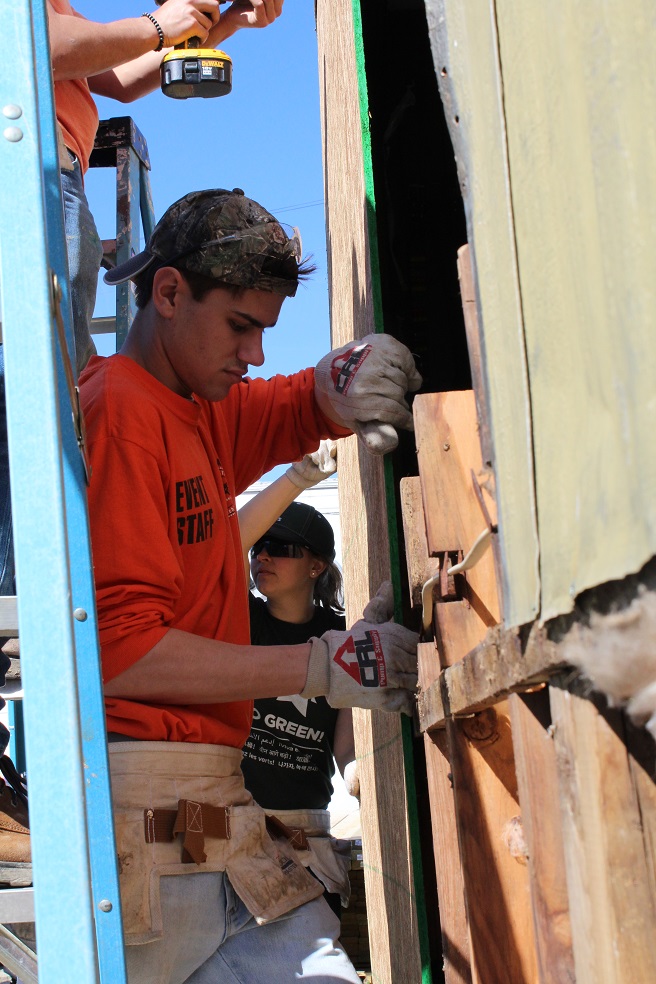 Matthew Chebowski helps replace siding and a window for a mother who just purchased her first home.
"I was looking for ways to live out my Catholic faith," said John Oliva, a trip leader and parishioner at St. John's Catholic Church in East Lansing, MI. "I mentor MSU students at St. John's. WorkFest is a great opportunity to teach them to live out their faith as well."
Christian Appalachian Project has hosted WorkFest for more than 25 years which brings in college students from across the United States to help Appalachian families dealing with the distress of poverty. WorkFest lasts three weeks and is followed by four weeks of YouthFest, a similar opportunity for high school students.
"Coming to WorkFest each year has made a huge impact in my life," Oliva said. "I was changed by my time here and I wanted to extend that experience after I returned home, not just for myself, but for the students as well."
Oliva has been to WorkFest every year except one since 2011 with the Catholic Spartans – the Catholic student group associated with MSU. In 2015, he started "Mercy in the Summer," a series of summer volunteer opportunities which engages MSU students with local community service projects to enable them to follow Christ's example of service to those in need in the greater East Lansing area. The Catholic Spartans will be back in Eastern Kentucky this summer to assist with additional home repairs. Oliva will be leading a team of MSU alumni who attended WorkFest as students.
MSU was joined by 102 students and leaders from 12 other institutions including Pennsylvania State University, University of Florida, and Rhodes College. The first week of WorkFest included repairs to 14 homes.