Submitted by

evanharrell

on Tue, 09/19/2017 - 13:44
Much of the work accomplished by CAP is made possible by the generosity, support, and service of community and corporate partners. Louisville-based Texas Roadhouse has been a valued corporate partner for the past seven years, sending volunteer teams annually to complete an array of projects. Through this partnership, Texas Roadhouse is helping to transform the region, directly impacting the lives of Appalachian children and their families, the elderly, and individuals with disabilities.
We reached out to Diania Ciresi, Sr. Manager of Community Relations for Texas Roadhouse, to learn more about this partnership, what drives their volunteer efforts, and their continued commitment to the region.
How long has Texas Roadhouse worked with CAP and how did that relationship begin?
Texas Roadhouse began its relationship with CAP in 2010. A rep with CAP reached out to meet with me – I had always had an interest in reaching beyond our local community and had interest in the Appalachian region. I explained to him that we don't just write checks but strive to involve our employees in as many of our philanthropy initiatives as possible. He rose to the challenge and within only a few weeks had a project to discuss.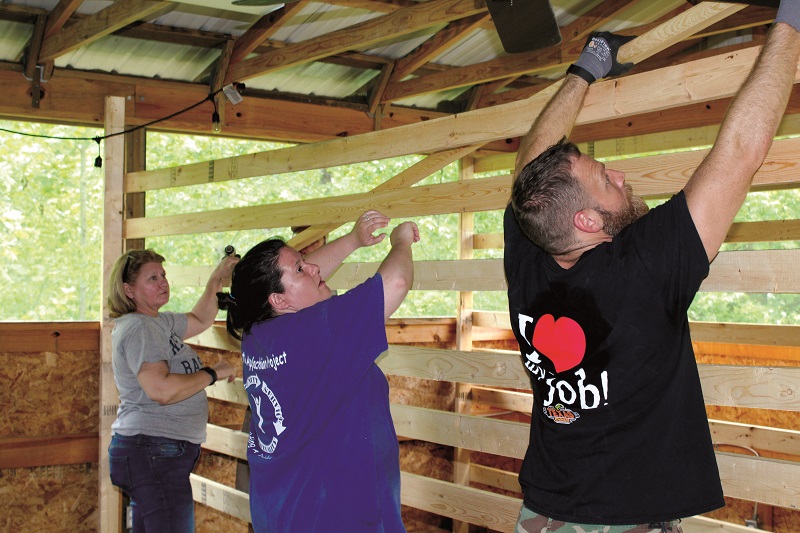 On what kind of projects has your group worked?
After my tour of Eastern Kentucky with a CAP representative, I approached our Accounting Team about a potential project – enhancing the Eagle Community Center in McCreary County. We painted, cleaned and organized, and installed a huge sand volleyball pit. We also hosted a party for the community with food, line dancing, and games.
We worked at Camp Shawnee for two years after that, then spent two years working in the Elderly Housing Program. We spent time with families, making improvements to their homes by building ramps, replacing windows, and providing general property enhancements. We then returned to Camp Shawnee for the past two years.
This year at Camp Shawnee, our team of 16 volunteers assembled bunk beds (Note: Texas Roadhouse has now provided EVERY bunk bed and mattress in the camp), built shelves and tables for the new Craft Room, and organized the clothes closet (for campers in need) in the community center.
Our volunteer teams have completed a variety of projects at Camp Shawnee over the years. We screened in the gazebo by the lake, built picnic tables, painted and furnished the Counselors' Lounge, and replaced and stained wood for the Theater (Chapel). We also laid the framework and stained all the wood for siding installation on several buildings and added a roof to the outdoor dining area.
How do your employees respond to this annual project?
Our employees look forward to the annual trip. We have a core group of around 10 who volunteer each year and various people who will join here and there. Our volunteers love the opportunity to do something outside the norm and give back to a community that is so under-served. They also look forward to the camaraderie they build by working alongside colleagues with whom they don't get to work on a normal basis.
Why have you continued to return every year?
We are able to have a positive impact on a community that is in great need. Appalachia is practically in our backyard, yet we never realized the scale of the need until we were approached by CAP. We return every year because we feel the personal impact of what we are doing for the children and families of the region.
Why CAP?
CAP came to us with a real need – not just a need for our money, but the need for our people to make a difference directly.
Would you recommend similar partnerships for other companies and organizations?
Absolutely. I challenge companies to tour the area with a CAP representative and really grasp the need and realize they can have a positive impact.
I continue to be amazed year after year by the passion exuded by the CAP staff and their singular focus to enhance the lives of people in need in the Appalachian community. They inspire me to be a better person and I think every person on our volunteer team would say the same.